Interview with Kevin Zimnik and Thorsten Roth, project managers responsible for introducing the TAXO TOOL and the associated rollout process at Sparkasse Bremen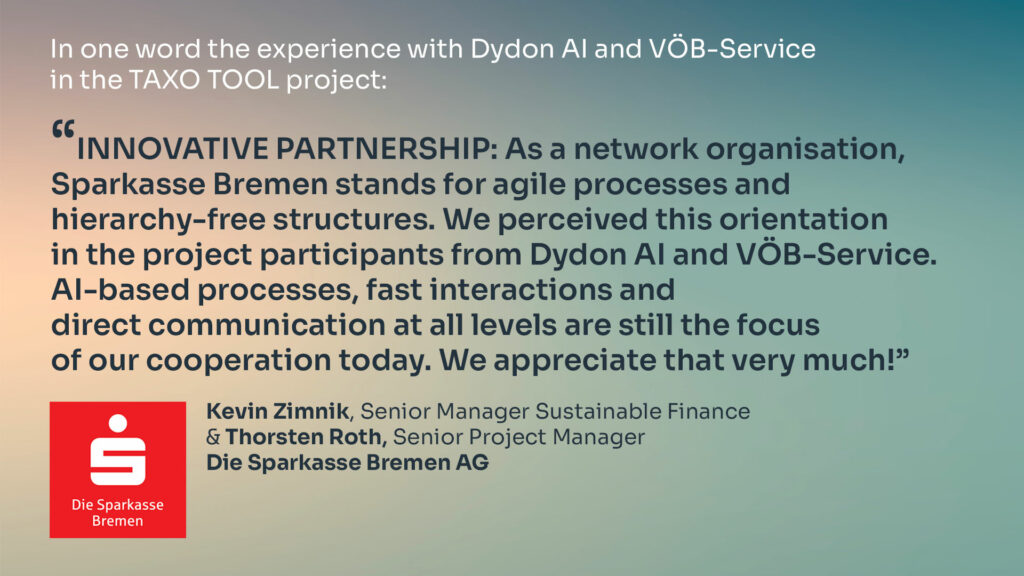 What challenges can Sparkasse Bremen solve by using TAXO TOOL?
In our search for a software solution to implement the regulatory requirements of the EU Taxonomy Regulation, we came across Taxo Tool at the end of 2020 and were immediately certain that this tool could provide us with sustainable support on our learning curve and help us in the overall process. In direct comparison to tested solutions from other providers, this tool convinced us right from the start due to its stringency and user orientation paired with AI-based processes.
Sparkasse Bremen participated in the pilot project. Is there anything you would like to tell us about the software development process?
As is well known, the EU Taxonomy Regulation has not yet been fully transposed into delegated directives concerning all environmental objectives. This is like open-heart surgery in the development of a software solution and poses permanent challenges for the entire team. As a pilot savings bank, we have been involved in the development process since spring 2021. In particular, it was important for us to test the functionality and user guidance and to identify possible process simplifications in the application. The Dydon AI development team reacted quickly and flexibly to suggestions for changes and always took a very pragmatic approach to the further development of the tool. The result was and is a very appreciative and solution-oriented interaction between all the protagonists involved.
What are the most important advantages you have experienced through working with TAXO TOOL?
The software Taxo Tool is a building block in our ambitious sustainability and digitalisation strategy. In addition to the original fulfillment of regulatory requirements, it is primarily intended to support our advisors through an intuitive and case-closing processing procedure and to facilitate the daily operational work for and with our customers. We also receive positive feedback from our customers who have already used the Taxo Tool in their advisory process and who find our experience and the integrated certificate process to be an added value.
If there is one word that would describe your experience with Dydon AI and VÖB-Service, what would it be and why?
"Innovative partnership": As a network organisation, Sparkasse Bremen stands for agile processes and hierarchy-free structures. We perceived this orientation in the project participants from Dydon AI and VÖB-Service. AI-based processes, fast interactions, and direct communication at all levels are still the focus of our cooperation today. We appreciate that very much!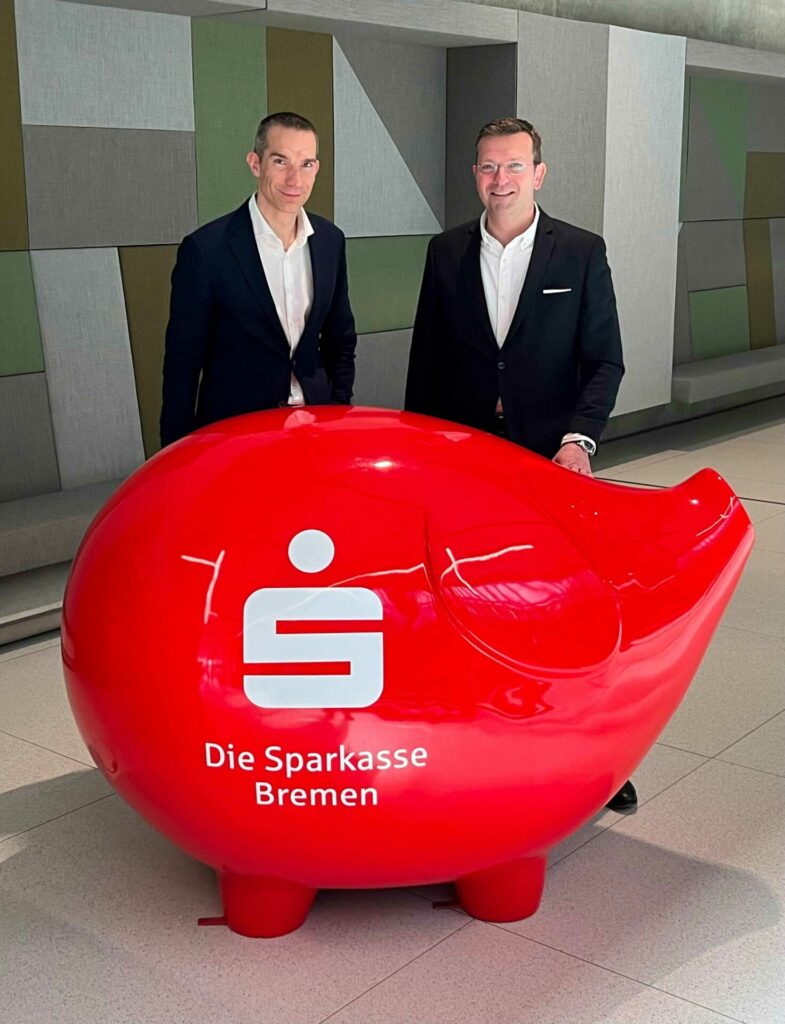 About Sparkasse Bremen
With total assets of more than 15 billion euros and more than 1,150 employees, Sparkasse Bremen is the market leader for financial services in the Hanseatic city. Founded as Freie Sparkasse by Bremen citizens in 1825, it is one of the largest German savings banks. It is a strong partner for small and medium-sized businesses and supports entrepreneurial growth with industry expertise and local competence. Exclusive private banking includes professional asset management as well as foundation and generation management. Sparkasse Bremen offers its private customers award-winning advisory services on all aspects of saving and financing as well as on pension and real estate issues.
Almost 200 years of commitment to Bremen
Sparkasse Bremen has been committed to its customers for generations and does not maximise profits. Instead, it invests a considerable part of its income in the quality of life of the people of Bremen – from kindergartens and sports clubs to the city's major cultural highlights. Every customer of Sparkasse Bremen thus simultaneously improves the quality of life in his or her district and in Bremen as a whole. Special attention is paid to the promotion of children and young people. strong. fair. hanseatic. //
http://www.sparkasse-bremen.de
***
About the EU Taxonomy
The EU taxonomy is a classification system establishing a list of environmentally sustainable economic activities. The goal of this new regulation is to help the EU scale up sustainable investment and implement the European Green Deal. The EU taxonomy provides companies, investors, and policymakers with appropriate definitions for which economic activities can be considered environmentally sustainable. In this way, it should create security for investors, protect private investors from greenwashing, help companies to become more climate-friendly, mitigate market fragmentation and help shift investments towards the 2050 climate-neutrality target.
***
About the TAXO TOOL
The TAXO TOOL (AI solution for sustainable finance) serves financial institutions and companies to map the complexity of the technical assessment criteria of the EU taxonomy for sustainability in one system and to enable automated procedures. Financial institutions can thus determine directly in the context of a loan approval whether a loan can be defined as green. In this way, a financial institution can strategically align its entire loan portfolio with a sustainable strategy. The same applies to companies, which can neutrally evaluate their respective economic activities and thus also implement a corresponding sustainable orientation of their economic strategy.

The TAXO TOOL was developed by the Swiss AI start-up Dydon AI in cooperation with the Bundesverband Öffentlicher Banken Deutschlands (VÖB) and its subsidiary VÖB-Service GmbH.
---