Zürich, 30th September 2022
Dydon AI, Swiss startup becoming leading provider of artificial intelligence solutions for sustainable finance in Europe, won the Innovation Award at the Global Sustainable Digital Finance Forum in Zürich
The Global Sustainable Digital Finance Forum is an international and interdisciplinary conference focusing on novel approaches in sustainability, organized by the University of Zürich and Stanford University, powered by Innosuisse and with partners like the Impact Finance Forum and the World Bank Group.
The focus of the Global Sustainable Digital Finance Forum is on research and innovations addressing global challenges in the field of banking and finance, insurance, IT, business management, law, regulation and many others. The examples range from using AI to analyse sustainability data along value chains for improving risk management to central bank digital currencies which enable financial inclusion.
The main goal of the event is to share concepts and concrete solutions on how sustainability can lead to innovative solutions that address today's challenges.
The Innovation Award recognizes innovative approaches from fintech startups for sustainable solutions based on its innovation degree, its value creation in terms of scalability of the business model and its project setup.
Dydon AI was selected as one of the 2 winners within the award ceremony of the conference for its EU Taxonomy AI-software, a solution which translates the tens of thousands of regulatory requirements of the new EU regulation for sustainable finance into a software-based representation.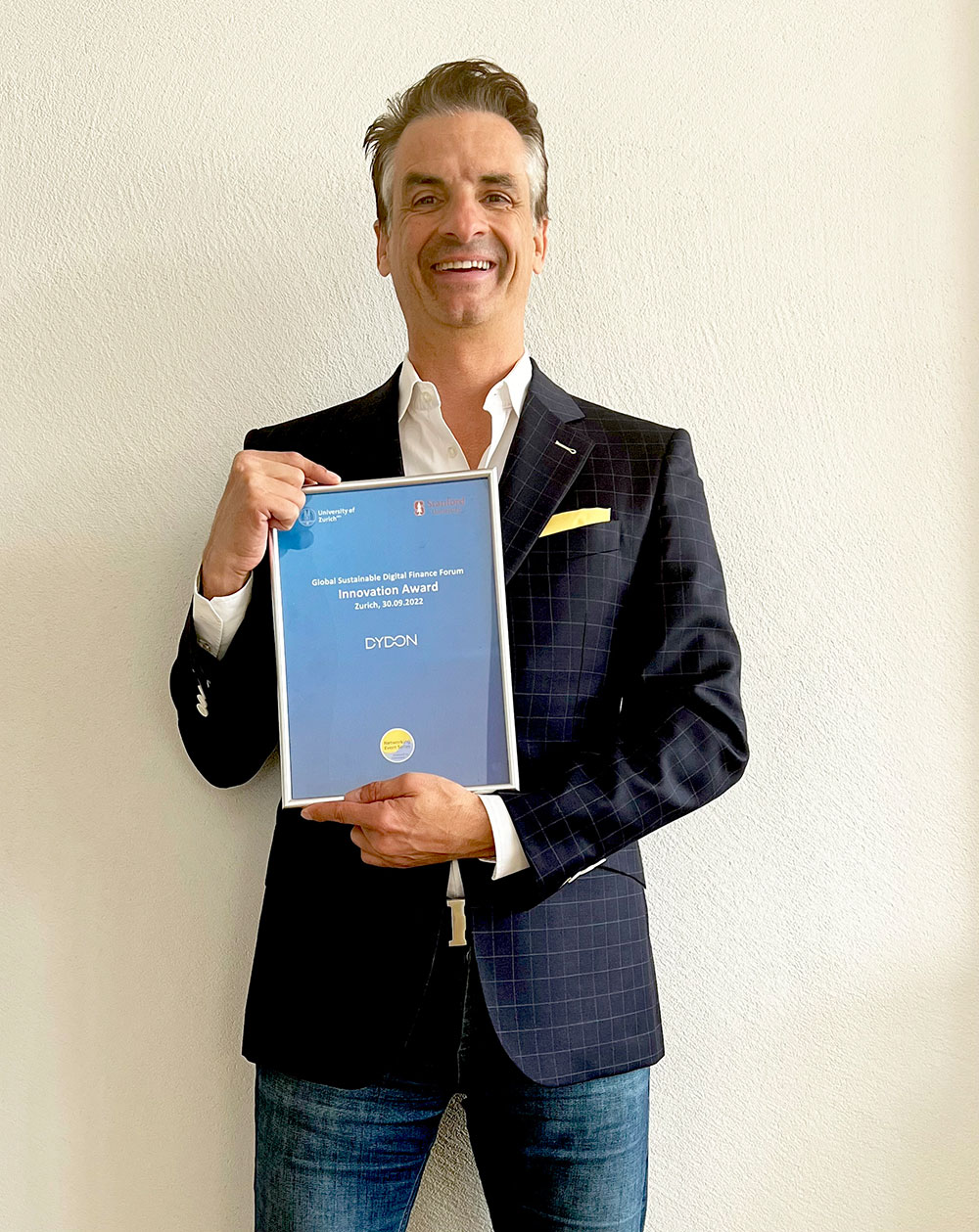 About Dydon AI
Founded in 2016 by Dr. Hans-Peter Güllich, Dydon AI is a Swiss startup offering an AI Suite for Sustainable Finance that provides fast, easy, traceable, and transparent assessment of all the necessary criteria to rank and analyze the sustainability level concerning ESG, EU Taxonomy and Supply Chain Risk.
For more information – https://dydon.ai/
Our next upcoming free webinars and product demo
Tuesday 18th October 2022 at 14.00-15.00 CEST
Wednesday 26th October 2022 at 16.00-17.00 CEST
Wednesday 9th November 2022 at 14.00-15.00 CEST
Tuesday 8th December 2022 at 15.00-16.00 CEST
Discover more about our TAXO TOOL- AI Solution for Sustainable Finance
---