Press release, Zürich 12th October 2022
Dydon AI, one of the leading startups offering artificial intelligence solutions for sustainable finance, announced today that the company was named "Best taxonomy data solution for ESG" at the ESG Insight Awards 2022.
These awards, organized by the A-Team Group, recognize established solution vendors and innovative newcomers providing leading ESG solutions, services, and consultancy to capital market participants.
Winners in other categories include brands such as Bloomberg, Refinitiv, Regnology, Morningstar Sustainalytics, SIX, Moody's, S&P Global and others (here the winner report).
Dydon AI won thanks to TAXO TOOL, its AI software for the EU Taxonomy, developed in collaboration with its partners Bundesverband Öffentlicher Banken Deutschlands (VÖB) and VÖB-Service GmbH. This tool represents today a key solution to help financial institutions and big corporates comply with the new taxonomy regulation for sustainable activities and fulfil Europe's climate goals.
"We are delighted and honored to be selected within this category for the award as it gives value to our efforts of these last years in digitizing the EU Taxonomy to enable financial institutions and companies to automatize a big part of the application process of such a complex compliance issue", said Dr. Hans-Peter Güllich, CEO and Founder of Dydon AI.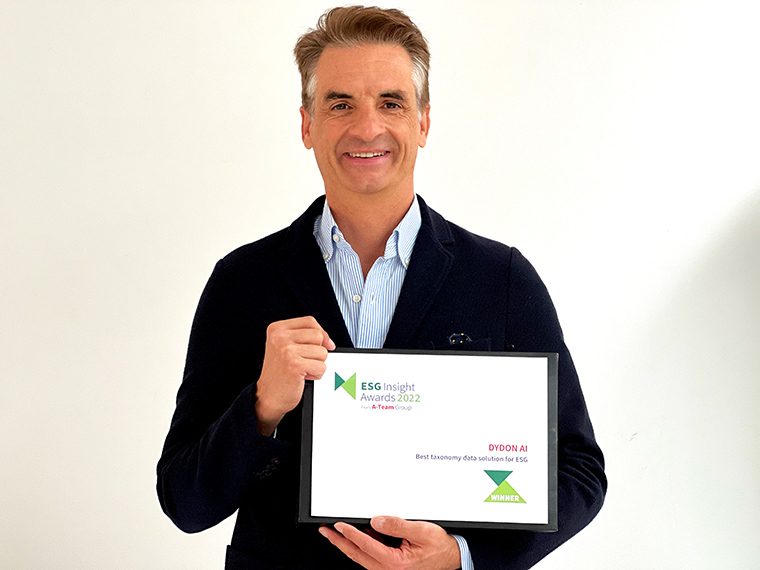 This is the second international award that Dydon AI has received in a short time frame. The company received the Innovation Award at the Global Sustainable Digital Finance Forum – an international and interdisciplinary conference focusing on novel approaches in sustainability, organized by the University of Zürich and Stanford University, powered by Innosuisse and with partners like the Impact Finance Forum and the World Bank Group.
But why is Dydon AI's solution getting all this international attention? From a technological point of view, the company created a logical representation of the EU Taxonomy for each Economic Activity out of 30.000 regulatory pages, developed CO2 emission models based on process engineering and automated the document reading and its data capture with its Natural Language Processing (NLP) stack.
When it comes to its application to the EU Taxonomy this means that the person who needs to evaluate the compliance of a project (e.g. a bank employee) can rely on a tool automating a large part of the procedure, saving several hours of manual work, and have the possibility to be supported through the process.
Secondly, but not less importantly, with TAXO TOOL there's the possibility to search for the necessary information through the AI process itself, overcoming those situations where key pieces of data are missing. Something particularly valuable for European banks because of their exposure to SMEs, representing hundreds of thousands or even millions of customers, for which limited data availability and poor data quality are common problems and represent a crucial challenge when applying the EU taxonomy.
About Dydon AI
Founded in 2016 by Dr. Hans-Peter Güllich, Dydon AI is a Swiss startup offering an AI Suite for Sustainable Finance that provides fast, easy, traceable, and transparent assessment of all the necessary criteria to rank and analyze the sustainability level concerning ESG, EU Taxonomy and Supply Chain Risk.
For more information – dydon.ai
Our next upcoming free webinars and product demo
Tuesday 18th October 2022 at 14.00-15.00 CEST
Wednesday 26th October 2022 at 16.00-17.00 CEST
Wednesday 9th November 2022 at 14.00-15.00 CEST
Tuesday 8th December 2022 at 15.00-16.00 CEST
Discover more about our TAXO TOOL- AI Solution for Sustainable Finance
---