Dydon AI has been nominated as one of the world's most innovative companies developing AI and machine learning technologies improving financial services with its sustainable finance suite.
Today the new edition of the AIFinTech100 companies list 2022 has been published by FinTech Global. The international ranking is addressing the most innovative solution providers developing artificial intelligence (AI) and machine learning technologies to solve challenges or improve efficiency in financial services.
AI and data analytics have seen an important acceleration in the last two years supported by technological improvement, increased use of digital channels, and shifting regulatory requirements. And above all, the cost savings that financial institutions could achieve through AI applications have been estimated to reach $447bn over the next 12 months.
This incredible increase of tech providers using AI or data solutions within banking, insurance, investment, trading and compliance was reflected also in the highly competitive scenario of the finalists, selected by a panel of industry experts and analysts, on over 2000 Fintech companies.
The criteria assessed by the Advisory Board and FinTech Global team include the following:
Industry significance of the problem being solved
Growth, in terms of capital raised, revenue, customer traction
Innovation of technology solution
Potential cost savings, efficiency improvement, impact on the value chain and/or revenue enhancements generated for clients
How important is it for a financial institutions to know about the company?
FinTech Global director Richard Sachar said, "Now, more than ever, established financial institutions need to be aware of the latest AI and data analytics technology in the market to deliver competitive financial products and reach new customers. The AIFinTech100 list helps senior decision-makers in the industry filter through all the vendors in the market by identifying the market-leading AI innovators which will have lasting impact on the industry."
"Being able to support corporates and financial institutions in tackling the complexity of the EU Taxonomy, together with ESG and supply chain monitoring, is really our main goal today." said Dr. Hans-Peter Güllich, CEO of Dydon AI "And being included in the AIFinTech100 list validates our efforts in developing continuously more efficient machine learning and ai applications for sustainable finance."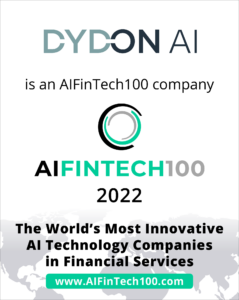 Thanks to Fintech Global
FinTech Global offers comprehensive data, valuable insights and powerful analytical tools available for the global FinTech industry. Fintech Global works with market leaders in the FinTech industry – investors, advisors, innovative companies and financial institutions – and enable them to get the essential intelligence they need to make superior business decisions.
A full list of the AIFinTech100 and detailed information about each company is available to download for free at www.AIFinTech100.com
About DYDON AI
Dydon AI is a Swiss company offering a flexible and transparent AI-Suite specialized in Sustainable Finance, Legaltech and Medtech solutions. What makes Dydon's AI Suite truly unique is its transparency and auditability, it could be considered an "Open-Box" system. The results that are shared with customers are transparent and traceable, supporting the company in its decision-making process. Founded in 2016 by Dr. Hans-Peter Güllich in Herrliberg (Zürich), Dydon has grown now up to a +10 people team. Hans-Peter is accompanied by a team of 2 co-founders with decades of experience in finance, technology and consultancy.
Discover more about our Sustainable Finance AI Suite
---